When it comes to decorating your home, some people opt for less-than perfect furniture and accessories for fear of their pets ruining them. But I am here to tell you that you can have a beautiful home with my cat-friendly interior design ideas.
The trick is to use items around your home, or purchased items, that are functional and also beautiful to look at. Think double-duty. I love using items that serve more than one purpose, with or without cats. So, it makes sense to use items that the cats can enjoy, while also making them look amazing in your home at the same time.
But, first things first.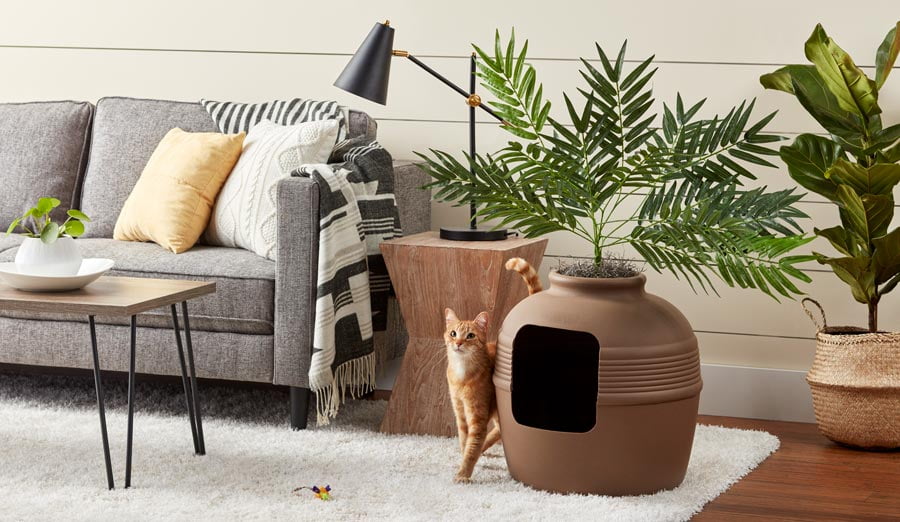 This post may contain affiliate links. If you choose to purchase a recommended product, I may receive a small commission at no additional cost to you.  Rest assured that I will not recommend any product that I would not use myself. For our full policies and disclosures click here.
Creative with ways to protect your furniture from your cats.
Slipcovers to protect your furniture from cat hair
The number one best cat protector for your furniture is slipcovers! Today's slipcovers are not only functional but beautiful and come in many sizes, colors, patterns and styles. Surefit makes a great assortment of slipcovers for sofas, sectionals and chairs and are very reasonably priced. Wayfair also has a large assortment.
The best part of using slipcovers is not only you can take them off and wash them, but you can also change your interior design by choosing another slipcover for a whole new look! Win win!
Cat scratch tape
Another way to protect your furniture is by using cat scratch tape. This product is basically a double sided tape and cats don't like the stickyness feeling of it so they leave it alone. They come in different sizes from small strips to full sheets to fill the side of your furniture. The strips are clear so they are virtually undetectable and won't wreck your decor.
Sofa cat scratcher post
This cat scrating posts wrap around your furniture to give your cats a place to scratch while also protecting the furniture behind it. These are great products for an area where your cats constantly scratch. They will still get to use their favorite scratching spot without ruining your furniture in the process.
FREE Catio Themed Project Planner
This all-in-one planner combines a stylish, catio-themed design with useful features like a printable monthly calendar, 30-day cat tracker, daily planner, to-do list, and a project planning sheet.
Decorative throws to protect your furniture from cats
This idea helps with your decorating at the same time you are protecting your furniture. Find some beautiful throws and drape them over an area that your cat typically rests like on the back of a sofa, on your bed, or on a chair. Then you can just wash the throw to remove the cat hair and your good to go.
Cat shelves, ledges, and wall perches for cat friendly interior design
Cats love to climb! So instead of them climbing all over your furniture and walls, why not give them places to climb that they will love and will also look great? And sure, you can purchase ready made cat climbing toys but they scream "I HAVE CATS!"
Why not use decorative items you probably have around the house such as baskets, picture ledges, or even an old ladder, as climbing objects for your cats? Or you could try something like these…
You might like this…
Do you want to spoil your cat with their own Cat Room? I have a post with all the best ideas, projects, and products to give your cat the best cat room ever! Read: "Awesome Cat Room Ideas for your Home"
Catios and cat runs
Do you have indoor cats? Indoor cats can get into trouble when they are bored. So, why not give them a safe place to get some fresh air and sunshine while keeping them perfectly safe?
Catios are a great way to give your cat some outdoor time. I built one myself using pvc pipes and put it on my deck right outside of a living room window. I purchased a cat window and now they can go outside whenever they want and they're safe! You can learn how with my post "How to build a catio with PVC"
Wanna get my printable Catio plans? Download and print this Ebook for your reference.
Using cat safe plants in your decorating
Using plants in your decorating will really make the space come alive. However, there are many common plants and flowers that are deadly to cats, or at least will make them sick. Here is a list of 10 plants that are safe to have with cats in your home.
Spider plant
Areca palm or ponytail palm
Calathea or Zebra plant
African Violets
Venus Flytrap
Boston Fern
Polka dot plant
Orchids
Herbs including Catnip
Hens and Chickens Succulents
If you are not comfortable having live plants with your cats, then you can always use artificial plants. Cats won't be attracted to them as much because they have no yummy smell. But you will still want to make sure they are not playing with them as they could pose a choking hazzard.
The best way to decorate with plants is to use them in a way that "fills" a vacant area. So, corners of the room, in an empty space on a bookshelf, of course on a window sill, or as a centerpiece on a table.
Try and add the plant when your cat isn't in the room and don't try putting one in an area where your cat usually hangs out. They will be more than interested to see what this new item is doing in their space.
You might like this…
Speaking of cat-safe plants…how about you try and make your own catnip? I'll show you how.
Creatively hide your cat's litterbox, beds, and toys
You love your home and you don't want the first impression to be that you are the crazy cat lady. Cat friendly interior design includes doing your best to hide cat things like the litterbox, toys, beds, etc. Here are some great ideas for hiding all these "non decorative" cat things including using items from around the home in disguise.
Pretty Food and Water Containers for a Cat friendly design
Another way you can keep your home looking beautiful is by using beautiful containers, dishes, and water fountains for your cats. Choose containers that coordinate with your home's decor and they won't stick out like a sore thumb.
Pretty Cat Bed Options
Give your kitty a comfortable place to sleep and maybe, just maybe, they will sleep there instead of on the back of your sofa. 🙂 The trick to making it look beautiful in your home is to make it coordinate with your home decor. The end table pet bed is the perfect example of doing double duty. The Hammock bed would be beautiful hanging even without a cat. And the rope bed looks like a beautiful basket all on it's own.
Build your own custom cat furniture
Your last option is to build your own cat furniture to coordinate with your home's decor like I did here.
You can read exactly how and why I built this cat playground/side table in this post titled "DIY Astetically Pleasing Cat Furniture."
Cat friendly interior design is simply to find items that your kitty will love, that will stand up to wear and tear, and will also look amazing with your home decor, no matter what style you love.