When it comes to decorating your home, some people opt for less-than perfect furniture and accessories for fear of their pets ruining them. But I am here to tell you that you can have a beautiful home with my cat-friendly interior design ideas.
The trick is to use items around your home, or purchased items, that are functional and also beautiful to look at. Think double-duty. I love using items that serve more than one purpose, with or without cats. So, it makes sense to use items that the cats can enjoy, while also making them look amazing in your home at the same time.
But, first things first.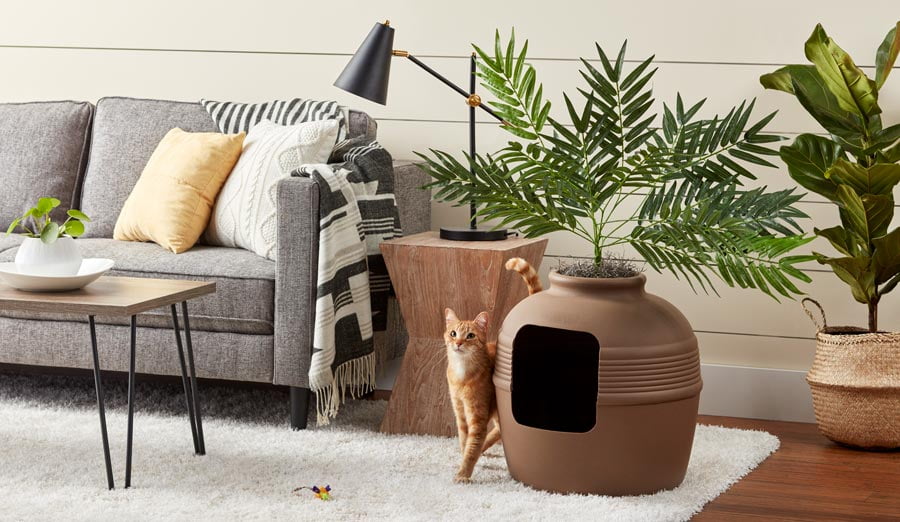 Creative with ways to protect your furniture from your cats.
Slipcovers to protect your furniture from cat hair
The number one best cat protector for your furniture is slipcovers! Today's slipcovers are not only functional but beautiful and come in many sizes, colors, patterns and styles. Surefit makes a great assortment of slipcovers for sofas, sectionals and chairs and are very reasonably priced. Wayfair also has a large assortment.
The best part of using slipcovers is not only you can take them off and wash them, but you can also change your interior design by choosing another slipcover for a whole new look! Win win!
Cat scratch tape
Another way to protect your furniture is by using cat scratch tape. This product is basically a double sided tape and cats don't like the stickyness feeling of it so they leave it alone. They come in different sizes from small strips to full sheets to fill the side of your furniture. The strips are clear so they are virtually undetectable and won't wreck your decor.
Sofa cat scratcher post
This cat scrating posts wrap around your furniture to give your cats a place to scratch while also protecting the furniture behind it. These are great products for an area where your cats constantly scratch. They will still get to use their favorite scratching spot without ruining your furniture in the process.
Decorative throws to protect your furniture from cats
This idea helps with your decorating at the same time you are protecting your furniture. Find some beautiful throws and drape them over an area that your cat typically rests like on the back of a sofa, on your bed, or on a chair. Then you can just wash the throw to remove the cat hair and your good to go.
Cat shelves, ledges, and wall perches for cat friendly interior design
Cats love to climb! So instead of them climbing all over your furniture and walls, why not give them places to climb that they will love and will also look great? And sure, you can purchase ready made cat climbing toys but they scream "I HAVE CATS!"
Why not use decorative items you probably have around the house such as baskets, picture ledges, or even an old ladder, as climbing objects for your cats? Or you could try something like these…