Learn how to distress painted brick and transform your painted fireplace into a beautiful farmhouse style focal point for your room.
Years ago I decided to paint my red brick fireplace in our family room. I absolutely hated the dark red brick which seemed to suck all the light out of the room. It was dated and didn't coordinate with anything.
So out came the white paint which completely covered the brick and I was a happy camper. The space was instantly lighter and brighter.
We'll fast forward a few years and suddenly exposed brick was the hottest new trend! UGH! And wouldn't you know I LOVED IT! Story of my life LOL
So, I decided it was time to learn how to distress painted brick and get with the times. Watch… Now that I finally did this the style will change again. HA HA
Product I used to distress my painted brick
Taking the paint off the brick was not an easy task. I researched a few ways to do this and decided on using a product called Kwik-Strip. This product is a spray remover and claims to be a fast paint and varnish stripper. And it was!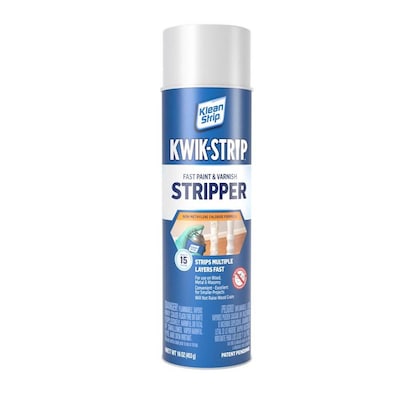 Kwik Strip paint and varnish stripper is a patent-pending, non-methylene chloride formula that strips 5 layers of latex dried paint in 15 minutes. Strips 5 layers of dried oil/alkyd paint in 45 minutes. Works on wood, metal and masonry. Sprayable aerosol applies quickly. Will not raise wood grain.
But there is one thing you will need to be aware of before you decide to use this product to distress your painted brick fireplace. It has very strong fumes. I used a mask (a must) and opened the windows in the room. I also closed the door but the fumes still penetrated through to my upper level. It was so strong.
But, I realized that I was leaving the product on the brick way longer than I needed to. I thought, "If it says to leave it on for a few minutes then 1 hour would even be better right?" Wrong! It dried and wouldn't take any paint off! And it recommends you do small sections at a time. So, if you just leave the product on for the length of time recommended, then you will have less fumes to deal with.
Before you start to distress your painted brick, determine the look your going for
While removing all of the paint from your brick fireplace would be a very tedious job, distressing the paint on the fireplace is a whole other story.
Therefore, this post is explaining how I distressed the paint, not removed it. If I was going to remove all of the paint I think I would try a different process.
The product I used worked great for distressing because it basically softened the paint just enough to be able to scrape some off. For this reason I was able to control just how much I wanted to remove and could repeat the steps if I wanted to remove more from any particular area.
The gel removers don't give you much control over this because you have to cover the whole surface and remove everything at once. Therefore, you will not know how much paint will be removed until you actually do it. Great for removing all of the paint. Not so much for an uneven, distressed look.
So, decide the look your going for by finding an image online and print it out. This way you have it with you while you work and can refer to the image to determine if you need to repeat any steps to get the exact look you want.
Remember, with the distressed look, you are trying to achieve an imperfect looking result. It should look like the paint naturally distressed over time. You do not want an even, balanced job. Make it messy on purpose.
Materials list
Plastic and Cloth Drop Cloths or similar
Bucket of Water
Large Sponge
Step by step instructions I used for distressing my painted fireplace with the Kwik-Strip product.
Disclaimer: As always please read and follow the manufacturers instructions for you product.
Step 1 Protect your surfaces
The first thing you will want to do is to protect the area around your fireplace.
Remember, If you have a mantle then you will want to cover it with heavy plastic and tape around it so the spray doesn't get under the plastic.
And finally, you will want to cover all other areas around the fireplace such as floors, carpet, walls, cabinetry, etc. You can use painters cloth, old blankets, or plastic.
Step 2 Ventilate the area!!!
Open your windows and turn on a fan if you have one to force the fumes out the window.
Step 3 Put on your gloves and mask
Buy a good mask with a filter. These fumes are strong and you don't want to breathe it in.
You will also want to protect your skin, so a good pair of thick rubber gloves should do the trick. Look for chemical gloves.
Step 4 Spray on the Kwik-Strip one section at a time
This product recommends you spray a small area at a time and let it sit for a few minutes. I found that it doesn't need much time at all to soften the paint. They also recommend this so you don't spray too much product at one time because of the fumes!
Step 5 Use a wire brush to scrape paint
Once you let the product sit for a minute or two take your wire brush and begin to scrub the brick. If the paint is not coming off at all, then spray another coat and move onto the next section. Come back to it in a few more minutes.
Step 6 Repeat steps 4-5 as needed
Repeat the steps as needed for each small section of your fireplace.
Step 7 Use water and sponge to rinse brick
When you are satisfied with the results, then use water and a sponge to rinse the fireplace down to remove any residue paint and product.
Step 8 Clean up the residue
You will have a muddy looking mess around the area. Remove the plastic from your mantle and surrounding wall areas first, then wrap it all up in the protective material you used on the floor and dispose in the trash. Again, make sure you read the suggestions for disposal for your particular product.
The final results
WOW! What a difference the distressing did for this boring painted fireplace! In fact it started out with absolutely no personality, what so ever, but now it screams character!
Finally, if you'd like to see the whole room transformation, as well as other DIY projects I did for this room, read this post "Room Remodel, Plan your Room" Not only will you see how I transformed this space with decorating but you'll also see some great DIY projects such as laying a floating floor, or making a magnetic chalkboard, and see how I finished an unfinished pine table. All of these projects made this room really come together.