Hi everyone, It's getting to be that time of year when the air is turning cooler, kids are heading back to school, and the leaves will begin changing color. My favorite time of year! And who doesn't love Pinterest? So, I've combined the two to bring you some great fall decorating ideas from Pinterest.
Now I am admittingly not the most punctual person when it comes to decorating for the seasons. You can ask my family. Two things I'm famous for…one, leaving tags on my accessories, and two, leaving my seasonal decorations up way too long! As a matter of fact, I still have my spring decor up (don't judge). So, to help us both out, here are some fall decorating ideas from Pinterest to get our creative juices flowing.
Fall Decorating – Front Porch Ideas
Fall decorating is all about color, texture and warmth. Go traditional with orange pumpkins and Mums like this porch below from Stone Gable. Add texture by adding a throw and a rug. Use thrift store finds to add interest and character.
If you're into the farmhouse style then check out this porch decor from Chic California. What makes this work is all of the different textures, and the layering of all the decorations. She has straw, wood, wax, metal, and florals, all in a neutral color scheme. I love this!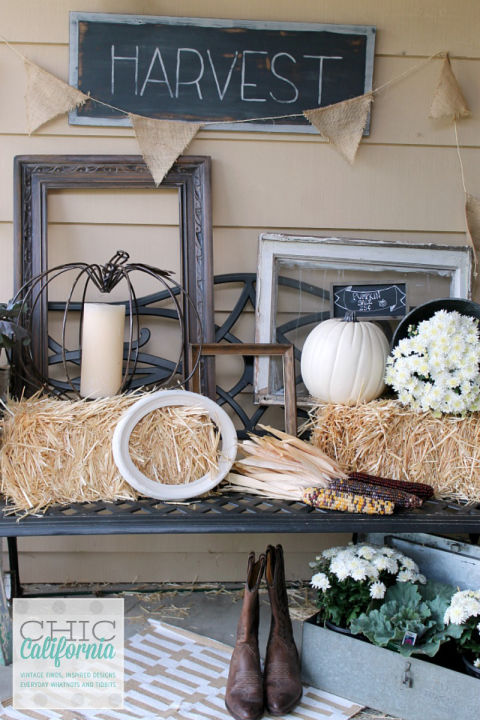 Adding a wreath on your front door really sets the tone for what to expect in the rest of the home. Make sure you coordinate your wreath by keeping the same color scheme, or style, for the rest of your fall decorating.
Notice how the colors in the wreath pop against the gray door? Beautiful!
To get your fall chores done, read my post "Fall Maintenance Checklist"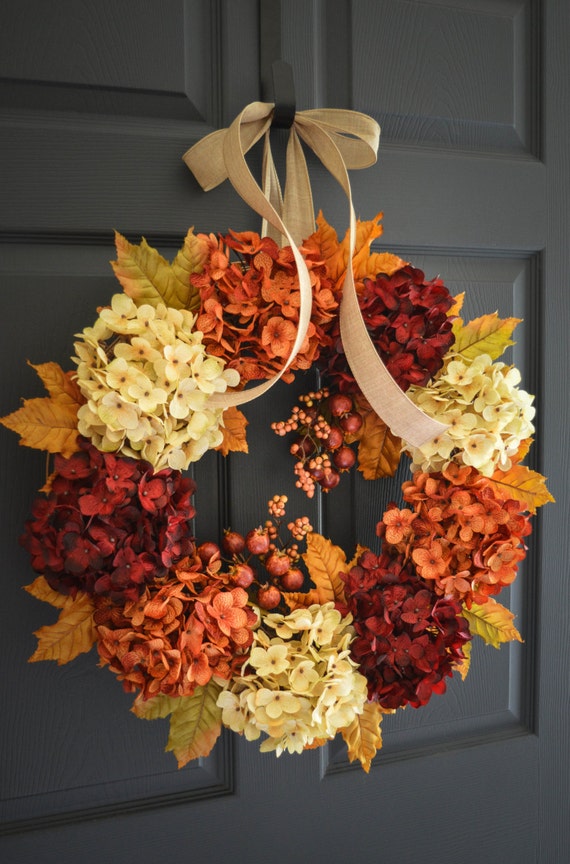 Fall Decorating – Entryways and Foyers
Do you love the farmhouse style as much as I do? I love it so much, but I also love color and the two don't always seem to work together.
Below you will see how one blogger from Worthington Court used the farmhouse style in her entryway fall decorating, with color, and it worked beautifully!
You will see with the farmhouse style it's all about telling a story. Layering lots of items with different textures and patterns, and keeping things light and bright, you'll master the look even if you love color.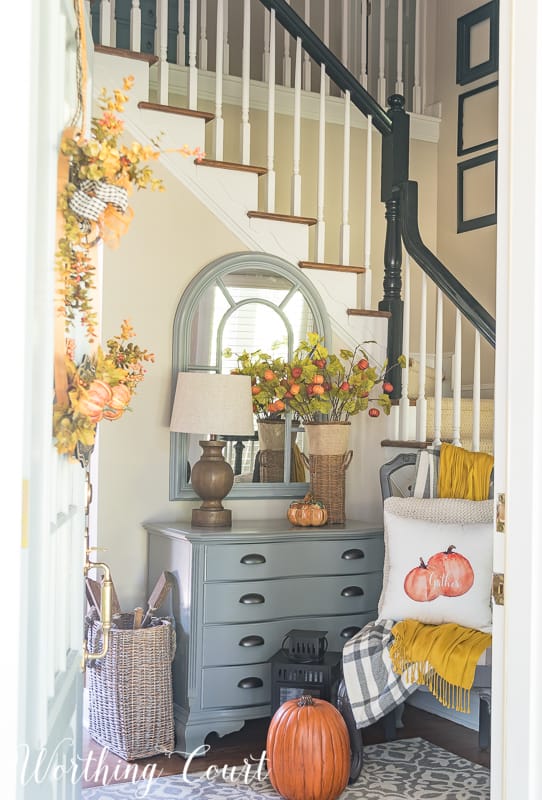 In this entryway we have another neutral fall decor. I love how she used a gallery of signs with other textures mixed in. The planter, architectural window, and the metal "gather" sign add that much needed texture, especially with a neutral pallet.
The jute rug, throw pillows, baskets under the bench and the throw also add texture that just welcomes you in.
StoneGable also brought the orange inside her entryway. I love how she used black to ground the colors. If you want to see my fall decorating ideas, featuring my own entryway, you can click the link above.
Here is another neutral colored fall entryway. This is a great example of how you can transition your fall decor into winter decor. By simply exchanging the pumpkins out for other winter decor is all you would need to do.
No matter what style you like, decorating for fall helps to bring in warmth you'll need in the upcoming months. Still don't understand? Change your rooms just like you would change your clothing by adding layers and changing the fabrics and colors and you won't go wrong.
Finally, if you want more great ideas, search for fall decorating ideas in Pinterest.