First-Why I decided to finish my unfinished pine farmhouse table
Before we get into how to finish a pine farmhouse table, I want to give you a little background of why I decided to finish my unfinished table.
Many years ago my son, who was dabbling in furniture building, built me a small wood plank table. This was made to hold my very large guinea pig page. Well, because I am so impatient, I never finished the table and used it in it's raw wood state. Besides, it matched my unfinished guinea pig cage LOL
This table was built to fit perfectly inside a recess in my living room built-ins. Because of this we had to cut our pre-made table legs pretty short.
For many years this unfinished table worked perfectly for it's intended use. But, when one of my piggies passed away I cut the size of the cage in half. Then I no longer needed the table to hold it.
So, it got a new life as a perfectly sized table for my three grandchildren. They love to play school and do crafts and the table was a perfect fit. I added a set of children's chairs and it worked great.
The only problem was that the table was still unfinished (raw wood) and my grandchildren were growing up. It was quickly becoming too short for them. You can see in the photo I used bed risers to elevate the table so they could still use it. 😉
Well, I decided to redesign the room that currently housed this table. So I knew that redoing this table was going to be on the list of things to update.
Materials used
Installing new turned legs on my unfinished pine farmhouse table
My grand-kids playroom morphed into a new family room decorated in the farmhouse style. So, I wanted the table to have the farmhouse style as well. But first, the little table would have to grow up and become a full height table again.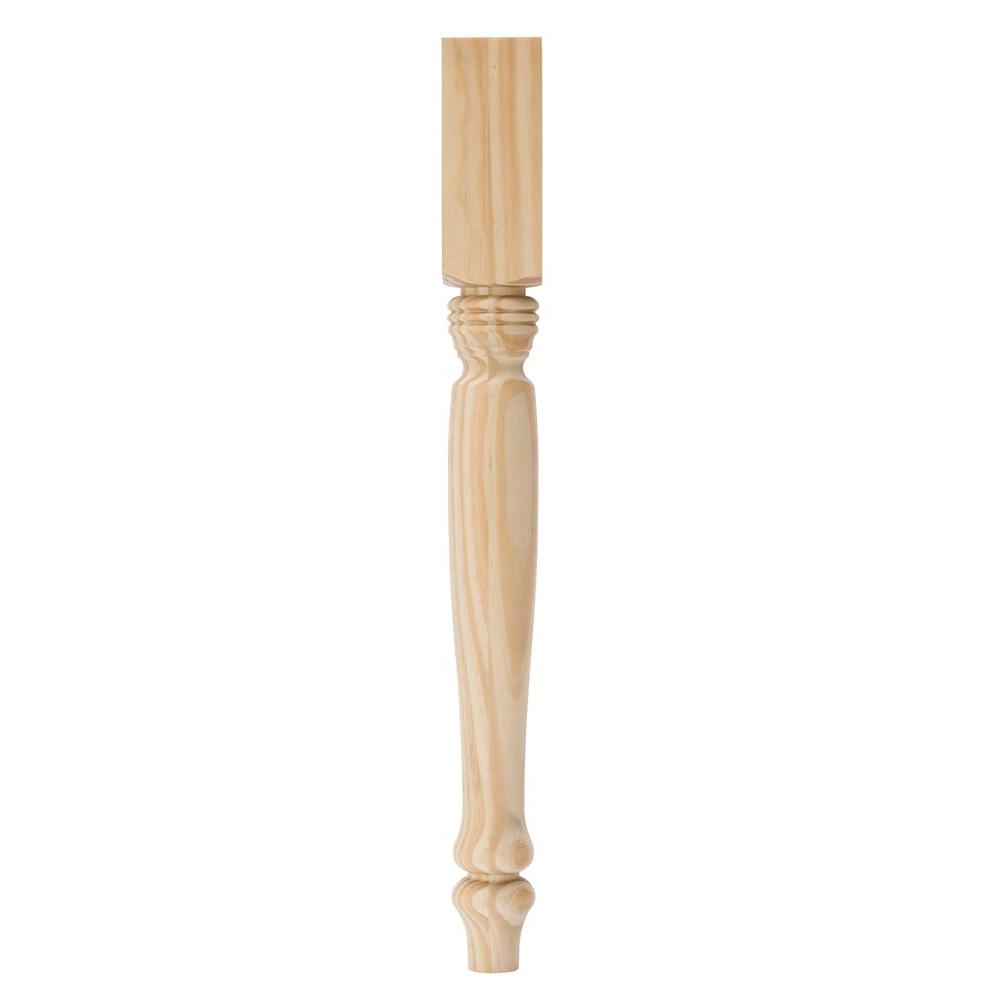 So the first thing I did was purchase new legs from Home Depot. They were just a basic turned style leg. I simply removed the old legs by unscrewing them from the table base and screwed in the new full height legs.
Farmhouse table – Staining the top
While deciding how to finish my pine farmhouse table I decided to stain the top and paint the base. However, you can either paint or stain the whole table if you wish.
If you are refinishing a table, then you will want to sand the entire surface before painting or staining. However, you will see below that I elected to skip this step (on purpose). This way I could achieve a more aged effect.
Starting with staining the table top, I chose a medium brown stain (see above) and used an angled paint brush to brush the stain one board at a time. The stain I used was a combo stain and poly blend but I still added 2 coats of a regular water based poly on top.
I did this so that I wouldn't have any obvious stopping marks in the stain. By going one board at a time it wouldn't matter if the stain took more on one board than another. And it would actually look more "farmhouse" even if it did.
If you are looking to make your new, unfinished pine boards look mismatched, then let the stain sit on the boards for different lengths of time. This will give you the feeling of different types, or ages of wood. You could also add more coats of stain to some of the boards or use a different colored stain to get the same effect.
My pine farmhouse table already had some differences in coloring in the wood. This is because it had already been used for many years. Since my grand-kids have been using it for a craft table, it also had areas with spilled paint, dents, and scrapes. So instead of sanding the table, I wanted to keep the imperfections. This would give it a worn look instead of a brand new look.